International Summer School on Chromatin Dynamics 2016
DATE : September 1 (Thu) ~ 4 (Sun), 2016
PLACE: Research Center for the Mathematics on Chromatin Live Dynamics,
    Hiroshima University (Higashi‒Hiroshima, Japan)

The Research Center for the Mathematics on Chromatin Live Dynamics (RcMcD) will provide an introductory course for the biophysics on the chromatin dynamics inside cell nucleus. The course includes the practices for cell image processing and the lectures on physical and mathematical theories for the analysis of the image data. We welcome all the students who are interested in the interdisciplinary studies on cells, irrespective of their disciplines. We will accept the students in the under- and postgraduate courses. Eight foreign participants from the universities having MOUs with us are appointed.
Schedule
  Sept. 1 (Thu) Opening, General Introduction
  Sept. 2 (Fri)   Lecture, Luncheon seminar, and Practical Course (image processing)
  Sept. 3 (Sat) Lecture, Luncheon seminar, and Practical Course (analysis)
  Sept. 4 (Sun) Presentation, Closing
  *The program starts around 17:00 on September 1 and ends around 12:00 on September 4.

How to Apply
  Please send the application form to RcMcD by e-mail.
  

rcmcd(at)hiroshima-u.ac.jp
  Summer School 2016 application form
  Deadline : June 30 (Thu) July 15 (Fri) closed
   *As the number of participants is limited to 16, there may be selection.
    We will contact the applicants by the end of July.

Travel Expenses and Accommodation
  RcMcD will support the travel fee and accommodation expenses.
   *For international participants: please ask for details.
   *This program is partially supported by JST Sakura Exchange Program in Science 2016

LOOKING FOR STUDENTS To Support Summer School 2016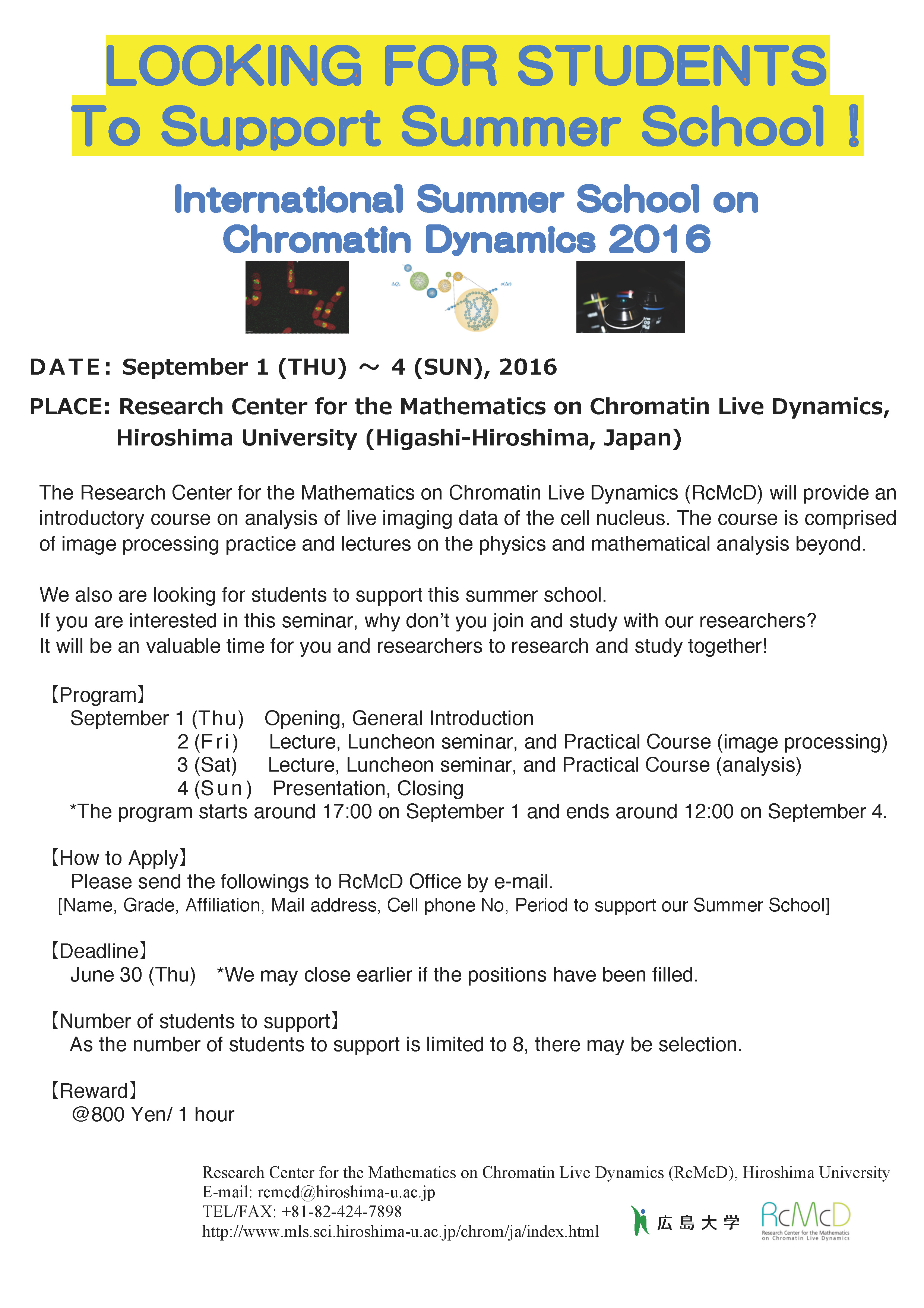 We also are looking for students to support this summer school.
If you are interested in this seminar, why don't you join and study with our researchers?
It will be an valuable time for you and researchers to research and study together!
【How to Apply】
  Please send the followings to RcMcD Office by e-mail.
 [Name, Grade, Affiliation, Mail address, Cell phone No, Period to support our Summer School]
【Deadline】
  June 30 (Thu) closed.
   *We may close earlier if the positions have been filled.

【Number of students to support】
  As the number of students to support is limited to 8, there may be selection.

【Reward】
  @800Yen/1 hour
  This program is in part supported by Japan-Asia Youth Exchange Program in Science, Japan Science and Technology Agency.